COWBOYS
Bull Riding
In 1998, Murray won his seventh All-Around World Championship title; an all-time world record in the sport of rodeo.
He's often referred to as "King of the Cowboys," "Superman in Boots", the Michael Jordan of professional rodeo.
At the age of 23, Ty became the youngest millionaire in rodeo history.
Ty won the PBR Bud Light Cup World Championship event in Las Vegas in 1999. He earned $265,000, the most ever won at a single rodeo or PBR event.
PBR and rodeo career earnings to date are nearly $3 million.
1994-1998 (out due to injury 1995-1997) PBR Bud Light World Cup Championships qualifier.
1990-1994, 1998 NFR Bull Riding qualifier.
1989-1994, 1998 NFR Saddle Bronc qualifier.
1989-1994 NFR Bareback qualifier.
Only cowboy to top $200,000 in a single PRCA season (1990-1993)
1993, 1998 PRCA World Bull Riding Champion.
1989-1994, 1998 PRCA World All-Around Cowboy Champion
1988 PRCA Resistol Overall and Bareback Rookie of the Year
The only seven-time PRCA World Champion All-Around Cowboy in professional rodeo history
Two-time PRCA World Champion Bull Rider, 1993 and 1998
Three-time reserve PBR Bud Light Cup World Champion, 1999-2001
1999 PBR Bud Light Cup World Finals Champion
2000 ProRodeo Hall of Fame Inductee
2002 Texas Cowboy Hall of Fame Inductee - Fort Worth, Texas
2006 National Cowboy & Western Heritage Museum Rodeo Hall of Fame inducte
Team Roping- Header and Healer
Tyler Magnus is a 9- time competitor at the National Finals Rodeo and was the NFR winner in 1995. He has also won the PRCA Texas Circuit Championship and the George Straight Team Roping Classic. Tyler is a unique cowboy because he is equally competitive as a header or heeler. Tyler's horse training skills have brought him as much acclaim as his awards in the roping arena. His training schools at Magnus Equine at the Circle T Arena, Texas, are highly sought after for classes on horsemanship and team roping.
For more info on Tyler's Roping's and Rodeo visit
www.TylerMagnus.com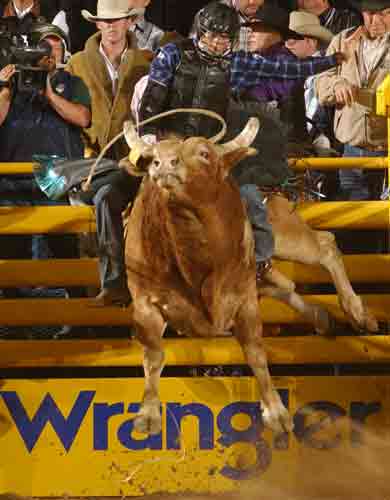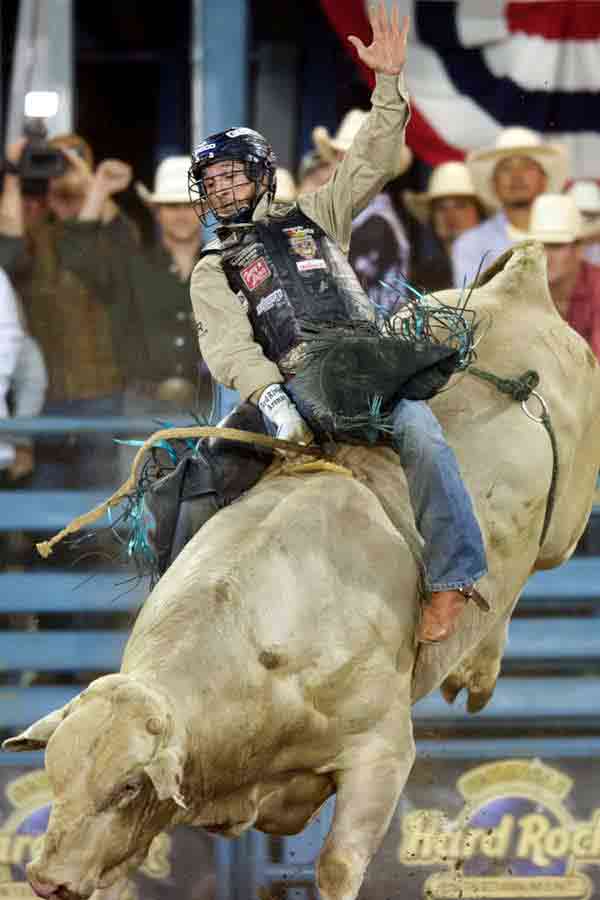 Bull Rider
3 Time PRCA World Champion 2008, 2009, 2010
2009 Fort Worth, TX CBR Champion
2008 Dodge National Circuit Finals
Bull Rider
Saddle Bronc Rider
2009 Round One Winner at the NFR
2008 Set arena record with a 92 point ride at San Antonio's Stock Show where he finished 3rd in the average.
2007 World Champion Saddle Bronc Rider
2007 National Intercollegiate Rodeo Champion Saddle Bronc Rider
2007 Cheyenne Frontier Days Champion
2007 Guymon Champion
2005 New Mexico All Around Champion
2005 Reserve National All Around NHSRA
Other Great Win's for Taos include: Deadwood, SD; XIT (Dalhart); Scottsdale, AZ; Oakdale, CA; Silver City, NM
Bull Rider
Justin McBride is a former professional bull rider on the PBR's Built Ford Tough Series Tour. He is a two-time PBR World Champion (2005 and 2007), has a record 32 career wins, and was the first professional bull rider to earn more than $5 million in the course of his career. McBride is also a country music singer and is one of the color commentators of the Built Ford Tough Series telecasts on CBS Sports Network and NBC Sports Network. McBride can also be found on Thursday nights on RFD-TV as the co-host of PBR Now.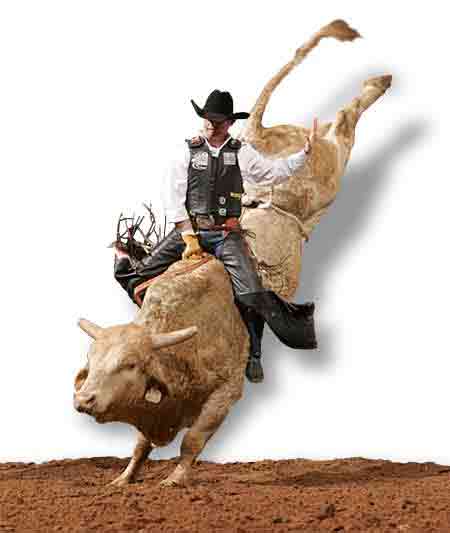 Bull Rider
As one of only two bull riders to ever ride the legendary bull Little Yellow Jacket twice, Cory McFadden has earned the reputation as a top bull rider. During the 2005 PBR World Finals, his fourth consecutive, Cory showed it's a reputation well earned by covering four of the world's rankest bulls and finishing fourth in the average, earning $91,700. His outstanding performance at the Finals underlined a 2005 season highlighted by consistent riding. With career earnings in excess of $1 million and a strong finish at the 2005 Finals, fans can look for Cory to continue to ride the rankest bulls in the world.
Team Roping- Header
2008 Cowboy Capital of the World Pro Rodeo Champion
2007 (Partner Coby Jones) Finished second in Round 7 of Wrangler National Finals Rodeo. Won the Dodge Texas Circuit Finals (Waco) and the Red Bluff (Calif.) Round-up. Finished 14th in the world standings with $68,371
2006 (Partner Coby Jones) Won the team roping titles at Whitey Bob Walker Memorial Rodeo (Ennis, Texas); Harris County Fair & Rodeo (Houston, Texas); Athens (Texas) MDA Pro Rodeo; Lawton (Okla.) Rangers Rodeo; Annual Bryan (Texas) Breakfast Lions Club PRCA Rodeo and Parker County Frontier Days Pro Rodeo (Weatherford, Texas); finished the year 27th in the world with $32,620. Won the bareback title at the Central Wyoming Fair & Rodeo (Casper).

2002 - Qualified for the U.S. Smokeless Tobacco Co. Cup Finale, presented by the Texas Stampede (Dallas) (now called the Championship Finale); won the California Rodeo Salinas with Coby Jones; finished 23rd in the world with $34,699.
2006 & 2007 Texas Circuit Champion
2005 Salina Champion

Team Roping- Header
2008 Cowboy Capital of the World Pro Rodeo Champion
2008 Laramie, WY Jubilee Days Champion
2007 NFR Qualifier
2007- (Partner Ryan Motes) Tied for win in Round 2 of the Wrangler National Finals Rodeo with Travis Tryan/Michael Jones.
Won the Angelina County Benefit Rodeo (Lufkin, Texas)
Won the Parker County Frontier Days (Weatherford, Texas)
Won the Reno (Nev.)
Rodeo and two rounds at the Guymon (Okla.) Pioneer Days

2006 - Won average title at Rodeo Killeen, Killeen, Texas and Lea County Fair & Rodeo, Lovington, N.M. Won Comal County Fair & Rodeo, New Braunfels, Texas; Lehi Roundup, Lehi, Utah and Kansas Biggest Rodeo, Phillipsburg, Kan. Finished 28th in the year-end standings
2002 World Jr. Champion
2001 Texas Cowboy Rodeo Association Champion.

Tie Down Roping
2008 Cowboy Capital of the World Pro Rodeo Champion
Adam grew up on a ranch in Seymour, TX and started riding horses when he was 2 years old. He had no fear of horses and always wanted to be around them. At 4-years old Adam would go out to the range (unassisted) take the horse to the fence, climb up the fence and get on the horse bareback. When asked at age 6 "what do you want to be when you grow up?" his reply, "I want to star in a rodeo and qualify for the NFR in Las Vegas".

Adam achieved his dream of qualifying for the NFR in 2009 and placing 12th in the world. Along the way to the NFR qualifiers, Adam made a few stops. He earned a degree in Engineering from Texas Tech University in 2007 while rodeoing all the time. He earned National Intercollegiate Rodeo Association Academic All-American Honors with a 3.5 GPA in 2006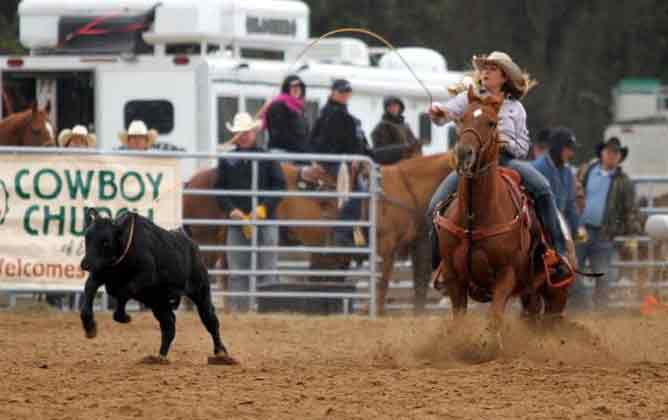 A WPRA World Champion Header
Jackie Hobbs-Crawford is a 5-Time WPRA All-Aroumd Word Champion, a 4-Time WPRA Tie-Down Roping World Champion, and a WPRA World Champion Header. She also won the NIRA Southwest Region Breakaway Roping Title three consecutive years as well as the NIRA National Champion Breakaway Roping Title. Jackie has captured the titles of some of the most prestigious women's events out there including the: Windy Ryon Memorial Roping(Heeling), 2X the Wildfire Open To The World(Heading), The Spicer Gripp(Heading & Heeling), 2X USCRA World Champion Breakaway Roper, The Ultimate Calf Roping Finals Champion Breakaway Roper, 2X Joe's Boot Shop Champion Breakaway Roper, and many more!

Jackie conducts roping clinics all over the United States as well as at her home in Stephenville, TX.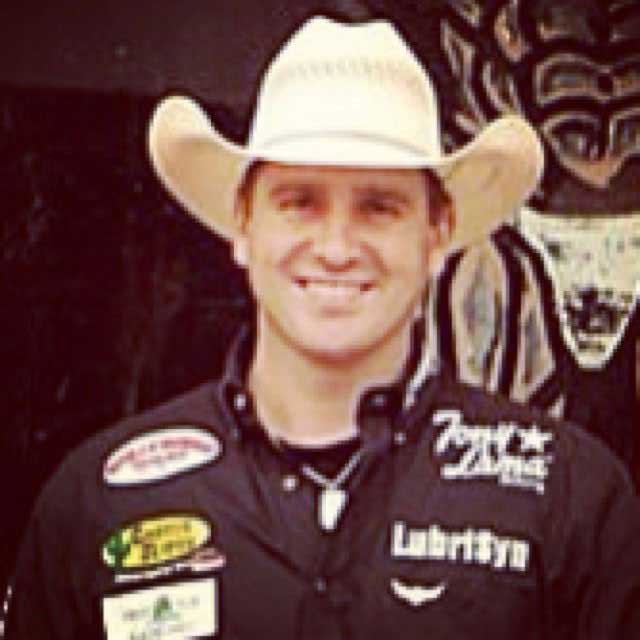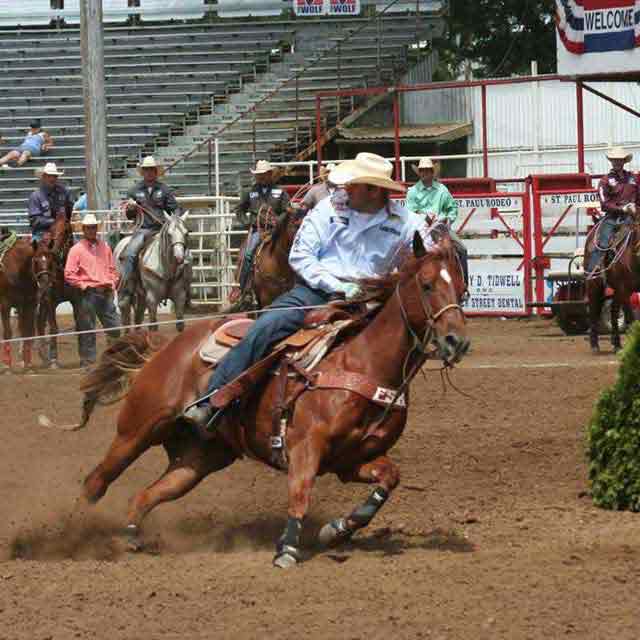 8-Time Wrangler NFR Qualifier
Charly Crawford is an 8X NFR Qualifier. Originally from Oregon, Charly now resides in Stephenville, TX with his wife Jackie Hobbs-Crawford. Besides his roping ability, Charly is very well known for his horsemanship and great horses he rides. He has had numerous nominations and placings for horse of the year in the PRCA and has had Horse of the BFI. Charly continues to pursue his professional rodeo career as well as making a big impact on teaching people to rope. He and his wife put on numerous clinics at their home in Stephenville as well as all over the U.S..